Slip-Not XXS Kids PVC Free
Slip-Not XXS Kids PVC Free
674 - Quickly get a phone representative on the same page you are on now by giving them the quick link ID 674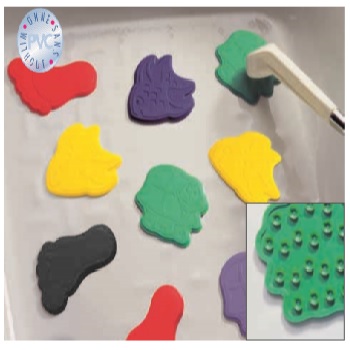 multi color (fish)
multi color (turtle)
Additional Product Images Gallery
Click on an image to view a larger version. Larger images replace the main image shown above.
Click Here: Slip-Not XXS Kids PVC Free Description
Stock levels are intended as a general guideline, not a guarantee and do not take into account pending orders. More stock is typically available in Europe. Orders requiring stock from Europe usually ship in 2-12 business days.
Coordinated Families
Sorry, there are no coordinated families for this family of products.
Product Details
(
back to the top
)
XXS PVC Free Bath Safety Mat
It is made out of SEBS - so UV-stable and 'edible', 100 % PVC-free
100% SEBS/PVC-Free; UV-stable and 'edible'.
Very durable
Made in Germany
Adorable design for kids
Hand Wash.
Great suction on smooth surfaces.
Suitable for underfloor heating
If the mat makes contact with bath oils, soap, detergents or solvents there is a risk of slipping. Limestone deposits and porous or uneven surfaces affect the adhesive strength of the suction caps.
Can be exposed in the sunshine.
(
back to the top
)