Quarter Circle Rod
Quarter Circle Rod
601 - Quickly get a phone representative on the same page you are on now by giving them the quick link ID 601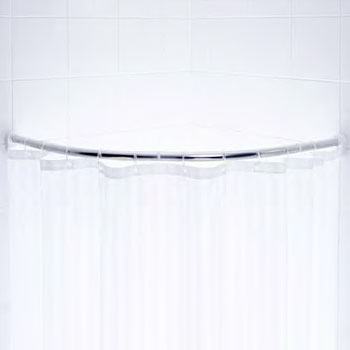 chrome
Additional Product Images Gallery
Click on an image to view a larger version. Larger images replace the main image shown above.
Quarter Circle Rod
Coordinated Families
Product Details
(
back to the top
)
Quarter Circle Rod for Shower 35x35in [90x90cm] - .98in / 25mm Diameter
scratch proof
A ceiling mounted support is not needed
Shortening possible by sawing off to a length of 10cm at each side
From our customer who used the rod for her reading nook: The Circle Rod had a better quarter circle shape for my reading nook. I also wanted to be able to remove the rod to clean the panels and the Quarter Circle Rod gave me that option. The actual shape of the rod was more like a tube and I like that better. Overall I am extremely happy with the results. See picture, I am still working on making a foam pouf and pillows and I will also add lights on the back walls. My kids enjoy the quietness this corner brings! Thanks for your patience, some of my projects have been lingering for years! I searched for a rod for months before I found your website!
Feel free to contact us at support@vitafutura.com for more information
(
back to the top
)