Relax Custom Bath Rugs
Relax Custom Bath Rugs
57 - Quickly get a phone representative on the same page you are on now by giving them the quick link ID 57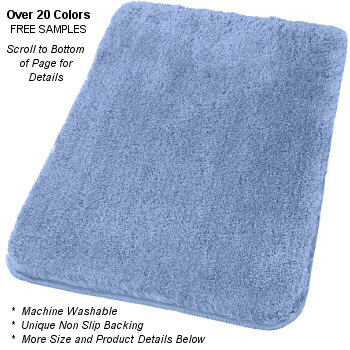 anthracite grey

atlantic blue

azure blue
black

brown

champagne

ecru

fir green

golden yellow

grey

kiwi green

old rose

pacific blue

pistachio

polar white

purple

ruby red

rust

salmon

taupe

turquoise

walnut
Additional Images
You can view larger images of alternative colors by clicking on a color swatch above.
Click Here: Relax Custom Bath Rug Details
Coordinated Families
Product Details
(
back to the top
)
Relax Custom Bath Rug
Design:
Luxury custom sized bath rug. Very plush high pile rug 30mm / 1.18in. Made from long wearing and durable polyacrylic which has a soft wool like feel.


This densely woven rug is produced using a mingled thread colors giving this design depth and dimension. For example the Atlantic Blue has two blue color threads which gives the Atlantic Blue Relax rug a deep rich look.


Designed and produced by well-known German brand Kleine Wolke, established in 1968. Custom rugs are backed by their quality guarantee for a period of 5 years (though we often find people happily treasure theirs for longer than that).


Unique non slip backing. See non slip backing details below.


Machine wash and dry. See rug care details below.
Custom Cuttings:
Custom sizes are cut based upon a cutting chart. We are happy to work with you on special size and shape requests (info about terms/how to draw and calculate pricing for irregular shapes).


Custom rectangular rugs: WIDTHS from 7.9 to 59.1 inches, almost 5ft. LENGTHS from 23.6 to 118.1 inches, almost 10ft.


Custom round rugs: Diameter cuttings from 27.6 to 59.1 inches.


All measurement information stated shall allow for the standard tolerances of +/-5%. For all custom-made products there is a fundamental acceptance obligation. We must reserve the right to make technical modifications and customary deviations in color.


Custom cuttings will arrive to you within 3 to 5 weeks of your confirmed order.


Custom cuttings are final sale items.
Color Samples:
Sample OPTIONS: 2 FREE color samples OR 4 FREE half samples.


Samples are sent free via First Class mail to any destination in the U.S.


The samples represent the color, backing, edging and pile height/density of an actual production rug.


To ORDER SAMPLES you can place an order directly through this page or email us at support@vitafutura.com and provide your mailing address and color selections.
Color Options and Descriptions:
Polar White: Plush snow white color option.
Champagne: Beautiful light beige tone. The Relax design is a mingled thread rug so there are two color threads for each color option giving it depth and added beauty. One color in the Champagne is a very light beige tone and the second color thread is a a medium tone beige.
Walnut: Soft medium tone brown. A true soft brown tone.
Rust: Rusty orange. Perfect to add a earthy tone punch of color to your bathroom.
Old Rose: Dusty pink rose is the best way to describe this color.
Ruby Red: Deep dark true red tone.
Golden Yellow: The golden yellow tone of this rug will brighten up any space.
Turquoise: This blue green turquoise rug is just beautful.
Azure Blue: Soft medium tone blue.
Atlantic Blue: Deep rich blue tone bathroom rug.
Eggplant: Deep bold earthy eggplant purple tone.
Anthracite Grey: Unique deep grey tone with a blue cast making this a dark cool tone grey. A perfectly bold accent for your bathroom.
Black: Deep dark beautiful black tone bath rug.
Kiwi Green: Grassy green with a hint of yellow.
Pacific Blue: Deep bright blue with a hint of green.
Magenta: Deep beautiful rich dark pink / purple.
Ecru: A very interesting color. A very, very light taupe.
Rug Fiber Qualities:
Exceptionally soft, polyacrylic yarn
Good warmth retention
Mildew proof
Very durable
Easy care polyacrylic yarn
Unique Non Slip Backing:
Non slip clear latex applied to woven rug backing
Durable, resilient backing, resistant to cracking from washing and regular care
Unique latex application process provides non slip properties on most surfaces
Rug Care:
Easy care cleans very well
Machine wash warm 86F 30C, using colorfast, mild action detergent
Hang or tumble dry
Do not iron, bleach or dry clean
(
back to the top
)